The popular trend in wines right now is aging in used Bourbon barrels. Here are some of the hottest players in this category.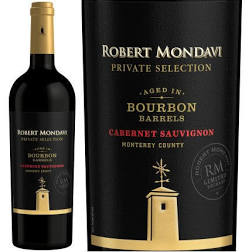 Robert Mondavi Bourbon Cabernet
Our best selling bourbon aged Cabernet , this is "Layered and complex... leaps from the glass with aromas of blackberry cobbler, graham cracker, brown sugar, milk chocolate, coffee and smoke. Palate of blueberry pie, praline, sweet vanilla custard, caramel and mocha is framed by soft chewy tannins and a hint of toasted oak"

Robert Mondavi Bourbon Chardonnay
This Chardonnay is the first and only Chardonnay that blends the craftsmanship of California winemaking with the Southern tradition of Bourbon Whiskey aging, resulting in an incredibly bold sensory expression. Rich, golden in color, it opens with intense aromas of ripe pineapple and toasted coconut with hints of toasted marshmallow and vanilla bean custard. Flavors of grilled pineapple, lemon custard, graham cracker, toffee, and vanilla bean follow with baking spices and toasty oak. Rich, creamy, and concentrated with balanced acidity and a lingering finish. This wine is perfect on its own or with grilled halibut and lemon-caper butter, roasted pork tenderloin, garden salad with gorgonzola and toasted pecans, shrimp scampi, and bacon-wrapped dates

Beringer Bros Bourbon Cabernet
A later arrival to the scene but gaining markshare quickly, Beringer Bros Bourbon Cabernet is bursting with aromas of ripe black cherry, dark chocolate, and vanilla. The palate is lush with ripe tannins and and integrated acidity, showcasing toasted hazelnuts, toffee, and blackberry preserves on the finish.